Welcome to 
SHOP
SHOP is UCSC's Student Health Outreach and Promotion Program and a destination for information. SHOP is where students can go to learn about health and wellness in a safe, non-judgmental environment.
SHOP offers information, education, resources and support on issues such as Alcohol and other Drug Use, Sexually Transmitted Infections and Sexual Health, and College Life balance. All UCSC students are welcome and encouraged to drop in and speak with SHOP's trained staff.

 Check out the SHOP calendar of events!
Contact 
SHOP
SHOP staff is available in person, online, by phone, or through email.
FREE personal wellness coaching sessions!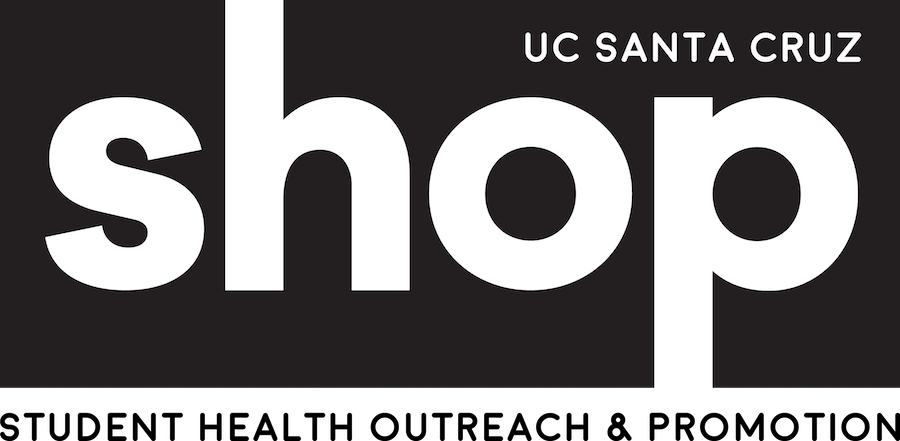 Email: shop@ucsc.edu (Please don't include personal health information in emails. Email is not secure.)
Phone: (831) 459-3772
FAX: (831) 459-3428
SHOP Staff 
Information
Meg Kobe, Director, she/her, they/them
mkobe@ucsc.edu
(831) 459-3772
Aimee Mangan, Associate Director, she/her
amangan@ucsc.edu
(831) 459-2625
Jorge Bru, Assistant Director, Senior Specialist of Harm Reduction & Recovery Services, Alcohol & Other Drug Educator, they/them
jbru@ucsc.edu
(831) 459-1417
Emily Giovanelli, Mental Health Educator, she/her
egiovane@ucsc.edu
(831) 459-4679
Amber Parker, Health Educator, she/her, they/them
ammparke@ucsc.edu 
(831) 502-7217
SHOP Student 
Staff
Prisca Niedermair 
BCP and Condom Co-Op Coordinator
Maxi Blanchard & Sandy Mossgrave
The Cove Co-Leads
Mayor Manlapid
Mental Health Coordinator
Ben Coronado & Keiko Utsumi
Party Safe Coordinator
SHOP Office Student Staff
Jeff Biggers
Ta'Zhnae Brooks
Saoirse Conboy